New and Used Car Sales have taken a hammering over the past 12 months due to lockdown after lockdown as a result of the COVID-19 pandemic. The Used Car market was down 17.5% to the end of Q3 2020, whilst figures released by the SMMT last week show that January 2021 was the worst for new car sales since 1970, with a decrease of 39.7% year on year. Despite the turbulence, many are optimistic about the outlook for 2021. We explore some of the sentiment in the industry and ask why the Motor Trade in UK should be optimistic for the coming year.
How does the UK compare to Europe
Car sales all over Europe have been behind due to the pandemic. The new car market at our nearest neighbor, Ireland is down but not to the same degree at the UK with a drop of only 17.8% in January 2021. However the picture in Germany is comparable to that of the UK with a drop of 31.1% in the first month of the year.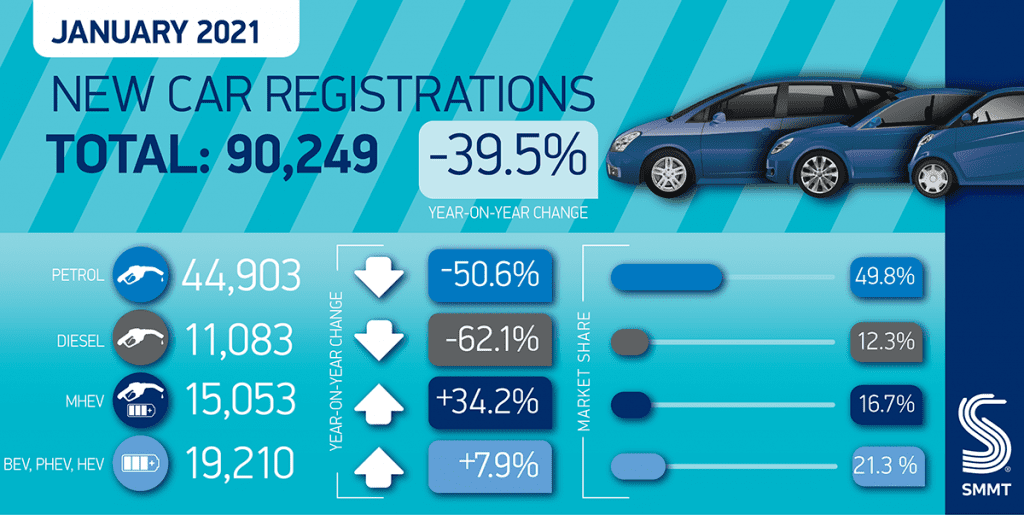 Mike Hawes, chief executive of the SMMT, commented; "Following a £20.4 billion (€23.2 billion) loss of revenue last year, the auto industry faces a difficult start to 2021. The necessary lockdown will challenge society, the economy and our industry's ability to move quickly towards our ambitious environmental goals.
"Lifting the shutters will secure jobs, stimulate the essential demand that supports our manufacturing, and will enable us to forge ahead on the Road to Zero. Every day that showrooms can safely open will matter, especially with the critical month of March looming," added Hawes.
Car Sales Optimism
Commenting on the SMMT's figures, Sue Robinson, Chief Executive of the National Franchised Dealers Association (NFDA) said "As expected new car sales fell -39.5% as a result of the January lockdown, but retailers are optimistic about the year ahead, provided that dealerships will be allowed to reopen as soon as it is safe to do so"
"Franchised dealers continue to offer 'click & collect' and deliveries to customers, and aftersales servicing to keep key workers on the road, however, there is a proportion of consumers waiting for dealerships to reopen and holding off their vehicle purchases due to the current restrictions. Showrooms have spacious areas and dealers can work by appointment ensuring the safety of customers and staff.
"Despite the lockdown, the automotive retail sector is looking at 2021 with confidence as sales will likely be fueled by pent-up demand, rising registrations of low and zero emission vehicles and the increasing importance of car ownership, which is seen by more and more people as the safest mean of personal transport in the present climate" Robinson added.
What does 2021 have in store?
Forecasting for 2021 is a very tricky business indeed, in this rapidly changing environment. Autovista Group's latest base-case forecast has been lowered to just over 1.9 million units. However, they are still forecasting an improvement of 17% in new-car registrations in 2021, with further growth of 11% predicted in 2022. Autovista have said that this is predicated upon vaccination progress preventing any further lockdowns in 2021 and new-car deliveries being largely unimpaired by semiconductor shortages and/or post-Brexit border delays.
Only time will tell how 2021 will play out, but many in the industry agree and cite additional reasons for the positive outlook on new and used car sales such as high levels of savings, pent up consumer demand, fear of going back to public transport and dealers rapid adoption of digital selling. It is also widely thought that as restrictions begin to loosen they will do so in a graduated manner, and although foreign travel might be off the table for some time to come, one of the few ways to cheer yourself up will be to blow those savings on a new motor.