There has been strong growth in Used Car transactions in Q2 with April, May and June performing ahead of 2019 figures. The outlook is optimistic despite overall used car sales for the year to June being 5% behind 2019.
The latest SMMT figures on Used Car Sales showed the used car market grew 108.6% in the second quarter of 2021 compared to the same period in 2020 with 2.17m units transacted. Registrations were up by 6.6% compared to pre-pandemic levels in 2019.
All months in Q2 saw significant growth, with May 9.9% up on 2019, the best performance for the month on record and June up 5% on 2019. BEV and PHEVs transactions rose by 353.9% and 349.8%, respectively.
Comparing year on year growth, the first half of 2021 has experienced a 33% uplift when compared against 2020 (3.86m units vs 4.05m units) and the used car market is now only 5% behind the pre-pandemic levels when compared against the first half of 2019 (2.89m units).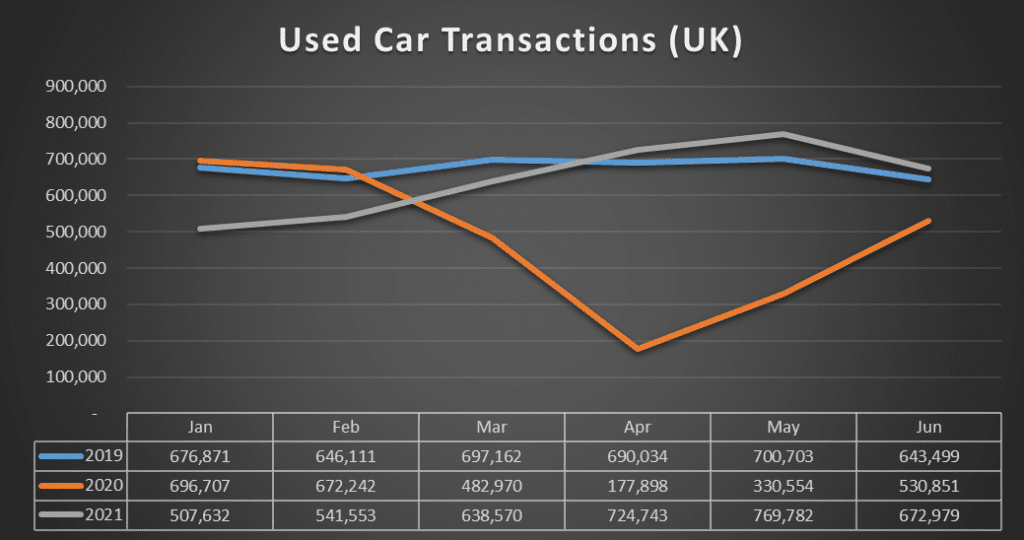 Commenting on the latest SMMT's used car figures, Sue Robinson, Chief Executive of the National Franchised Dealers Association (NFDA) said; "As anticipated, the used car market performed strongly in Q2 2021 as the nation unlocked and motorists had an increased need for personal mobility. The outlook for the used car sector is strong as supplies of new car vehicles remains constrained for the time being. We expect growth in the number of used plug-in vehicles coming onto market in the coming quarters".
MotorCheck has also experienced growth in volumes of transactions as used car sales continue to grow. However, at a time when many people are considering purchasing a used vehicle rather than a new one, it is important to remind buyers to check the history of any used car and follow our car buying advice before parting with your cash, whether buying from a Dealer or buying privately.