Are you any good when it comes to haggling for a price? If you said 'no' you're not alone, as a new survey has revealed.
Negotiating on the price of their next car fills the majority of British buyers with fear, and many just don't bother to try to save some valuable pounds, new research has shown. Less than a third of car buyers try to negotiate when purchasing a car, and yet those who did – and were successful – saved on average £896.
That's the findings from online car marketplace CarGurus, who say that, with more than eight million new and used car transactions in the UK in 2022, motorists are collectively forgoing billions of pounds in potential savings by not beating down the sticker price.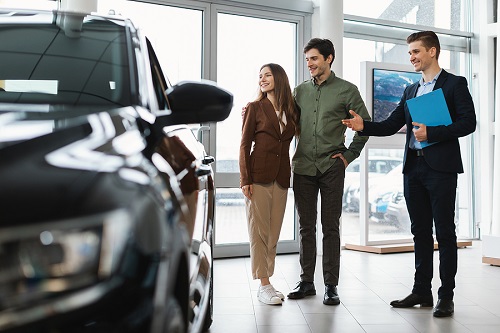 Buyers aged 18-24 were the most successful in knocking down the price, saving an average of £1,730, while drivers over 65 secured £1,023 off the car's asking price.
There were many reasons given by motorists for not negotiating. More than half (53%) said they found it too uncomfortable to bargain for a price, 16% didn't want to offend the dealer, and 15% said they didn't know how to haggle.
Nearly 10% said they thought it was rude: younger buyers (18-to-24-year-olds) are seemingly the most polite – 55% said they didn't want to offend the seller.
One of the best ways to go into car price negotiations with confidence is to be well prepared for battle. CarGurus offers a free online valuation tool for example, but having additional information such as reviews of the make and model of the car, the reputation of the dealer and the car's history, all make a robust price negotiation easier and potentially more successful.
For buyers that were successful in negotiating, 40% said they compared pricing for similar models online beforehand, and 25% refused to budge on how much they were willing to pay. In addition, 18% took someone with them as back-up to help negotiate, while 16% rehearsed the conversation in their head in advance.
Even when buyers were not successful in lowering the price of a car, dealers often came forward with additional incentives to complete a purchase. Nearly a quarter of buyers were offered at least one additional enticement, such as an extended warranty, free servicing or money-off optional extras such as leather seats.
Being armed with a clear picture of the car of your dreams' history is vital in this bartering process too. Knowing its true mileage, how many previous owners there have been, how many recalls the car has had, whether it has been MOT tested correctly, or if it has been used in the past as a taxi can all help in your negotiations.
The Motorcheck history check, which starts at £9.99 for a 'Single Check', will also tell you if there is any finance outstanding on your purchase, if it has had a colour change, a number plate change, whether it has even been stolen, written off and much more.
Being armed with all the relevant information before talking to a dealer or seller, should put you in a better position to haggle and will give you increased peace of mind. No argument…