Yes of course, where readings are available, we can perform a car mileage check. We delve into our vast database to carry out the mileage check and see if a car has been clocked. We understand the need to verify a car's miles, ensuring that the vehicle you're eyeing is worth the investment. One of the reasons UK car buyers rely on MotorCheck over any other car history provider is our unrivalled ability to spot a clocked car, but please be aware of the limitations outlined below.
What exactly is car clocking? – Car clocking involves tampering with the odometer in order to falsify the mileage on a car or vehicle. Clocking is a widespread problem in the UK. The latest figures from the Local Government Association (LGA) demonstrates that instances of car mileage clocking have increased by 25% between 2014 and 2016, with the total cost to the UK motoring public estimated at £800 million per year.
When you buy a MotorCheck report you will have access to over 500 million odometer readings including reading from Motor Dealer Service Records, DVLA readings, MOT readings and more. A vehicle's history is not just about the miles it has travelled. Factors such as engine wear, the car's age, and the overall distance driven play crucial roles in understanding its true value and condition.
Your car's current registration number (along with any previous registrations it may have had) is checked against the entire database for any evidence of a mileage discrepancy which may indicate that the vehicle has been clocked.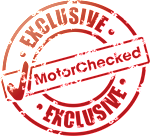 If there is a discrepancy flagged or there is a lack of readings this can often be a tell tale sign that the car's mileage has been clocked.  We offer an additional "Mileage Investigation" service to our customers in order to get to the bottom of such issues but also to rule out data errors and false positives.
Please note – this service is only available via the official MotorCheck website.
A MotorCheck report saved James McEvoy thousands
"It had only 70,000 miles on it with a full BMW service history. You will want this car as soon as you see it, he said. I thought this was the one but how wrong was I!"  James McEvoy was on the brink of making a pricey mistake. The car looked perfect – with only 70,000 miles and a full BMW service history. But, a MotorCheck report unveiled a hidden history, saving James thousands. Discover how MotorCheck aids countless customers like James daily.
Read James' and other customer experiences here
Find out with a car mileage check:
If mileage has been recorded previously
The readings recorded and dates of readings
If any mileage discrepancies can be highlighted, ie: Was it clocked?
What dates the mileage discrepancies occurred
Please be aware of the limitations
Of course it's worth noting that odometer readings can only be supplied where there are previous odometer readings available for the vehicle. Whilst MotorCheck cannot guarantee that we have odometer readings for all vehicles in the UK (nor do we guarantee to have a complete mileage history for all vehicles), we have access to over 500m recorded odometer readings and can also provide a manual investigation service for our customers. Where we do have previous odometer readings and a discrepancy exists, this does not necessarily mean that the vehicle has been clocked. If the is a discrepancy highlighted on your report and you want to verify if the information is correct then please contact us (support (at) motorcheck.co.uk OR 0330 331 0150) and we will perform an investigation.
Experience peace of mind when purchasing a car. Check your car's mileage now with MotorCheck and be confident in your choice.
Don't Regret It, MotorCheck It! - more reasons to use MotorCheck
Our affordable and easy-to-use reports save UK car buyers thousands of pounds every week.
Check for previous Write-off history and Condition Alerts