Yes of course. When it comes to choosing your next car it's very important that you're fully aware of all the safety implications. Only MotorCheck provides you with the vehicle's original Euro-NCAP safety ratings for all vehicles that have successfully received a rating from the official Euro-NCAP test centre.
If you are concerned about vehicle safety it is very important to determine what Euro-NCAP rating the vehicle originally received. Every MotorCheck history report contains the vehicles NCAP ratings (where available) so you have all the facts before making a final decision.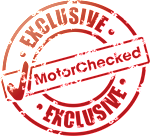 What is the Euro-NCAP Rating?
Euro-NCAP is recognised as the de-facto safety performance rating for motor vehicles in Europe. Its aim is to provide motoring consumers – both drivers and the automotive industry – with a realistic and independent assessment of the safety performance of all cars sold in Europe.
Start now with a Free Vehicle Identity Check.
Don't Regret It, MotorCheck It! - more reasons to use MotorCheck
Our affordable and easy-to-use reports save UK car buyers thousands of euro every week.
Check for evidence of mileage Clocking
Check for previous Write-off history and Condition Alerts